4 Reasons I Gave Up Video Games

Video games and content have been at the forefront of many debates concerning content, influence, and possible ill effects since they became a pop culture mainstay in the 1970's.
I have been playing games since my own infancy and have grown up alongside consoles and the characters they have ushered in.  From RPGs and puzzles to classic action-adventure side scrollers and first person shooters, I have played and loved them all.
As I embark on this yearlong hiatus from my virtual life, I feel compelled to let my online friends and family know the reason I am leaving.
I have never had an urge to shoot at towards or with someone in real life.
I am no sword fancier.
I do not have any form of ADHD.
Instead, what video games have given me is an extreme shortage of free time. I cannot raise a baby, finish a PhD, and dungeon crawl all at the same time (efficiently).
And in this epic era of the Playstation 4 and Xbox One ushering in the next gen gaming experience, and the Wii U doing whatever a WII U does, there is too much to chose from and too many princesses that need saving.
The following is a list of everything I look forward to getting my hands on when I come back to the many many many worlds that await my many many avatars:
1) Making my Xbox One do my taxes while watching a streaming movie. Apparently this thing can do it all.
I know many people have waited for the fall of the first run systems to avoid issues like the YLOD or RROD that plagued early models of the 3rd gens.
But when we (and by that I mean I) get our hands on this system and infuse it with our whole home entertainment experience, Microsoft is set to impress.
The infusion of sports, movies, music, and games can be off-putting to some die-hard gamers, but the Xbox One certainly will not be lacking in options.
Xbox One looks to go big, or go home with its all-encompassing new features. It may take lesser men months to figure out everything this machine can do. And being a lesser man, I do not have the time.
2) Making my wife think that we live in the matrix and that the PS4 is the real world.
For the hardest-core gamers with adamantium hearts and vibranium boxers, the PS4 is supposed to be a visual delight.
It delivers fast paced HD gaming at a supposed superior level to the Xbox One and cuts the excess that Microsoft piled on.
When I first got my PS3, I about fried my eyeballs out for 6 straight days. Playing titles like Uncharted for the first time will certainly help to blur the line between the red pill and the blue one.
That potential for immersion alone along with some pretty awesome exclusive games make this a must buy for me. Unfortunately that means a must buy in a year or so. Cannot have babies wearing the same diaper for a week while I finish The Last of Us. I hear that's bad parenting.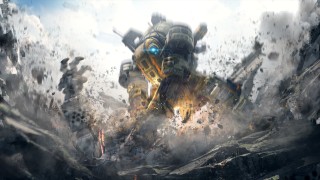 3) Titanfall. Really.
On the eve of the release, I decide to dedicate my spare time to reading and learning Russian.
Of course, I could always game online with Russians who are sure to help me bridge the language gap while I crush them at Titanfall.
This supposedly epic multiplayer next gen Call of Duty has some critics raving. See some of the articles here on Pinstor.us for more details that I don't have the time to delve into.
The commercials had me salivating like a steak starved Pavlovian puppy hearing the bells of Notre Dame. *Look up Pavlov on wiki later because I have time to do that now.
4) Mario Kart Has Numbers! That is all. I love Mario Kart.
I am just not sure that I can convince myself to get a Wii U. More on that later.
So in this year off, I will write often, read more often, and rehabilitate my gamers' thumbs.
By the time this son of mine is ready to take the family mantle and game his underoos off, I should be ready to return like Gandalf.
I wonder if they will have white next gens by then?
– author Andrew Jones